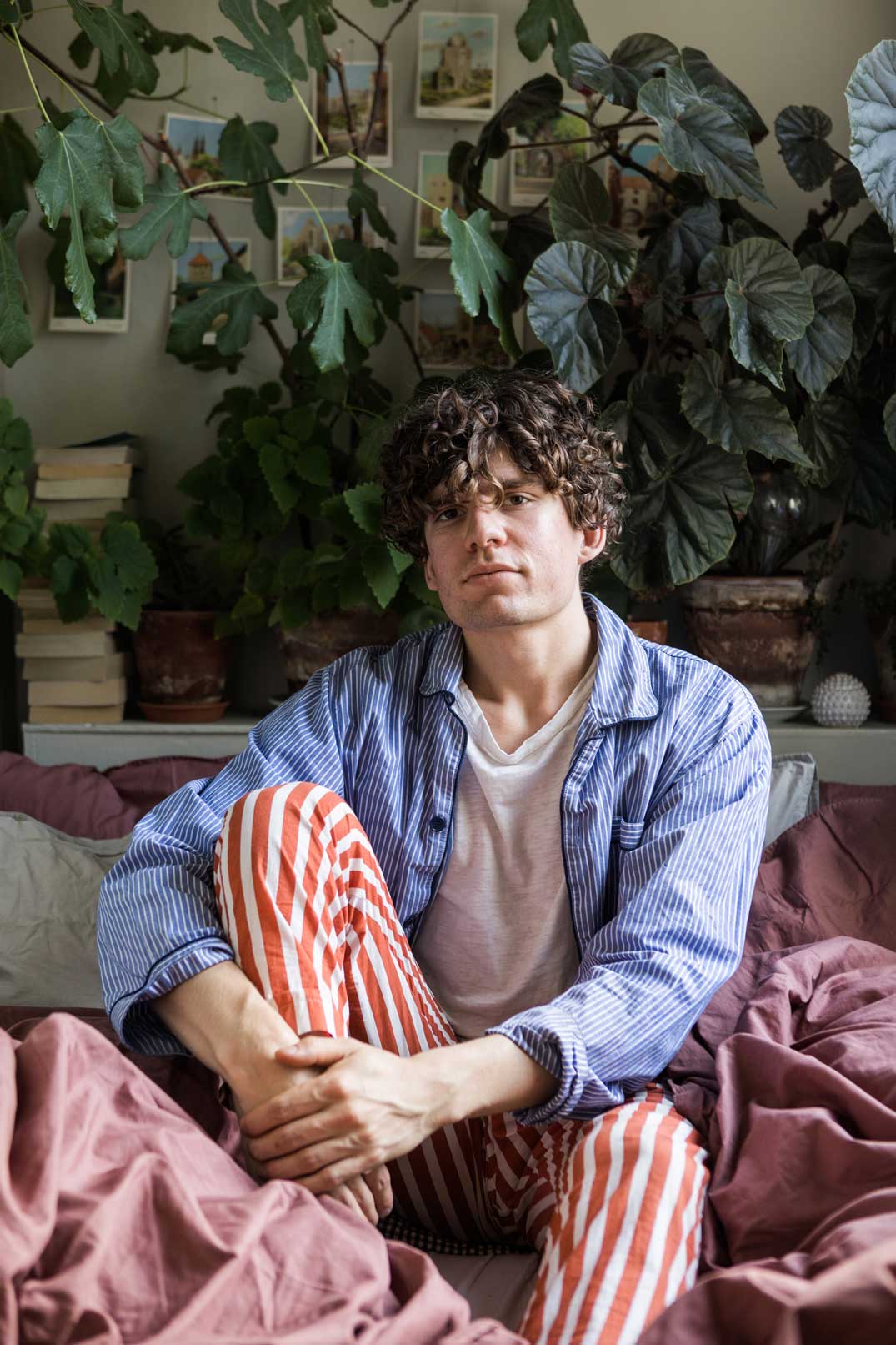 Stepping into stylist Sebastian Bergström's morning macrocosm means: listening to French playlists, drinking coffee from a "cafetière" and reading about young writers in shabby Parisian attics. Sebastian is one of the creative minds behind the interior shop Tambur in Stockholm, and no one designs more coherent worlds than him. His little apartment south of Stockholm is no exception. His dreams of France is unquestionably, with splashes of Tuscany present in sunflowers and terra-cotta pottery.
In this small space, he has handled his nerdery of beautiful things in a cycle-system where only the perfect objects in fittable sizes will stay. The rest, he makes sure, find new, worthy homes. We stepped into his sphere and wanted to copy-paste his way of making everything picturesque and everyday extraordinary.
Tuesday evening ends:
I usually go to bed around midnight.
Before turning off the lights:
I'm scrolling through Instagram. During the day I can save things I'd like to check up this very moment, it could be accommodation in Paris, a book or search for something that I have realized I need – right now I'm looking like a maniac for a French Market Bag, in rattan, which I should bring when I shop my flowers or delicacies from the farmer's market.
I sleep in:
I wish that I managed to sleep completely dressed in pajamas (because I basically live in mine during the days), but it gets way too hot under my fluffy duvets, so most of the time I do not sleep in anything at all.
I share the bed with:
For the moment only my pillows and plants, haha.
On my nightstand:
A book that I am reading, hand cream if I get a whim to care for my hands more, an Eiffel tower and some plant cuttings from a Dr. Westerlund.
My best tip for a good night's sleep:'s sleep:
Have the window open, sleep in soft bedding, surround yourself with plants, and don't go to bed hungry.
Keeps me awake:
Those nights when I get into a creative flow or have lots of ideas on things to change here at home or in the store. Then I get stuck in this Catch-22-moment because I want to fall asleep so it can be morning and I can start the next day and realize all those projects, but at the same time, I can't fall asleep because I keep coming up with new ideas throughout time…
My version of counting sheep:
Usually, I turn off the light and then fall asleep quite quickly, but if I don't I listen to the podcast "Skäringer & Mannheimer" and set a 15-minute sleep timer.
My best midnight snack:
I have dinner at 9 or 10pm, so I don't eat an evening snack. I enjoy eating late, and I usually have much to do in the evening, so when I finally sit down, I do it on the couch and eat dinner in front of some movie or series.

My evening beauty routine::
I brush my teeth with my perfect looking toothbrush from Hay and my favorite toothpaste from Selahatin.
Favourite bedroom feature:
I love that it's almost a bit like sleeping in a small tree top hut. On one side I have the sky and the trees, and on the other, I have my kitchen window, and in between, under my large begonia plant, I lie under my duvet and just cuddles.
Wednesday morning starts:
I wake up at 8 o'clock.
My alarm sounds like:
The iPhone signal called "radar." I should switch to something more harmonious…
The first thing I see:
The sky and birch growing right outside the window. I can immediately see what weather it is. Love that view!
My morning mood:
Cheery. It's a new day and soon breakfast!
Everyday breakfast:
Coffee, crispbread (preferably Wasa sportknäcke) with strong cheese and radish/tomato, freshly squeezed orange juice, fil with granola and always at least three different toppings – strawberries, grapes, and peaches are my favorites right now!
Birthday breakfast:
Hmm… On my birthday, I probably go for a cardamom bun instead of a croissant and of course a lit candle. Beyond that, it's the same menu as my everyday breakfast.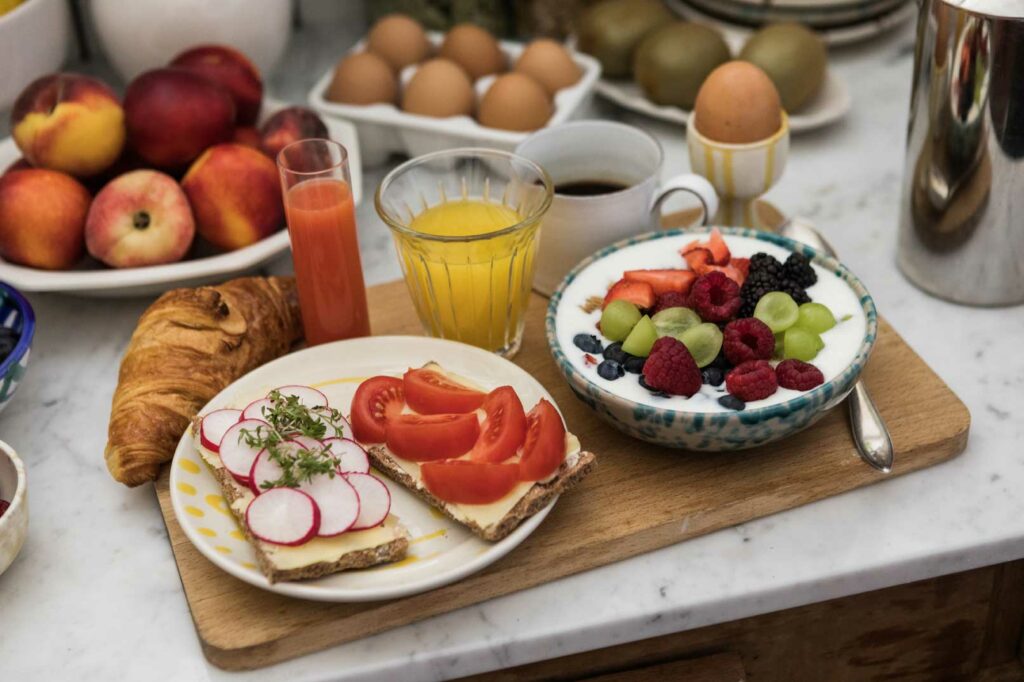 A dreamy weekend morning:
I wake up without an alarm, see a clear blue sky, put on my pajamas, turn on my list on Spotify with soothing French songs, make breakfast and then I go back to bed with the breakfast tray to eat and read for as long as I want.
Morning beauty routine:
Brush my teeth, shave and apply a moisturizer to my face and finish with some splashes of my Aesop perfume "Marrakech Intense." Ready!
My do's and don'ts when making the bed:
I never just lay the pillows flat and throw the cover over everything. I prefer to "line up" three pillows at the back and two at the front, then I puff the duvets a little. The best bedding is the one when it looks really soft, snuggly and welcoming – that's nice!
Also, we just have to ask – we noticed that your fridge is just as curated as the rest of your home – how do you do it?
When I come home from the grocery store, I unpack the bags in the kitchen, all the plastic packaging go straight to recycling. I rinse berries and fresh veggies and put in bowls. Juices are poured into carafes, the butter in the butter box and the cheese in my cheese bags. Everything has its place. I simply want everything in my home to look beautiful. My philosophy is that it's the little things (like avoiding plain packaging and instead have everything in lovely bowls) that makes everyday life extraordinary.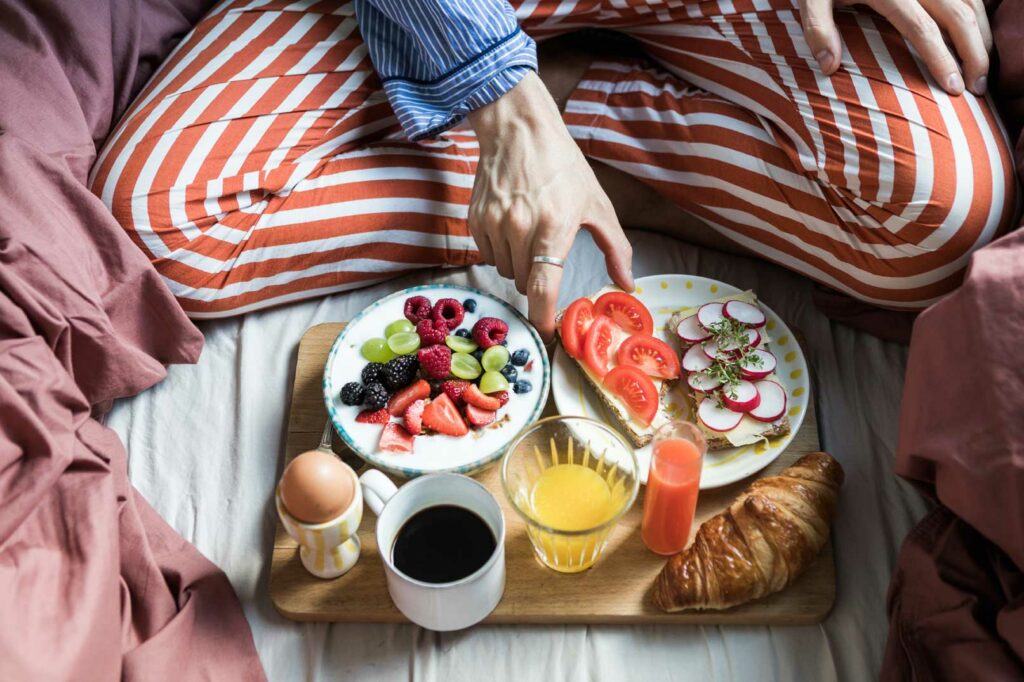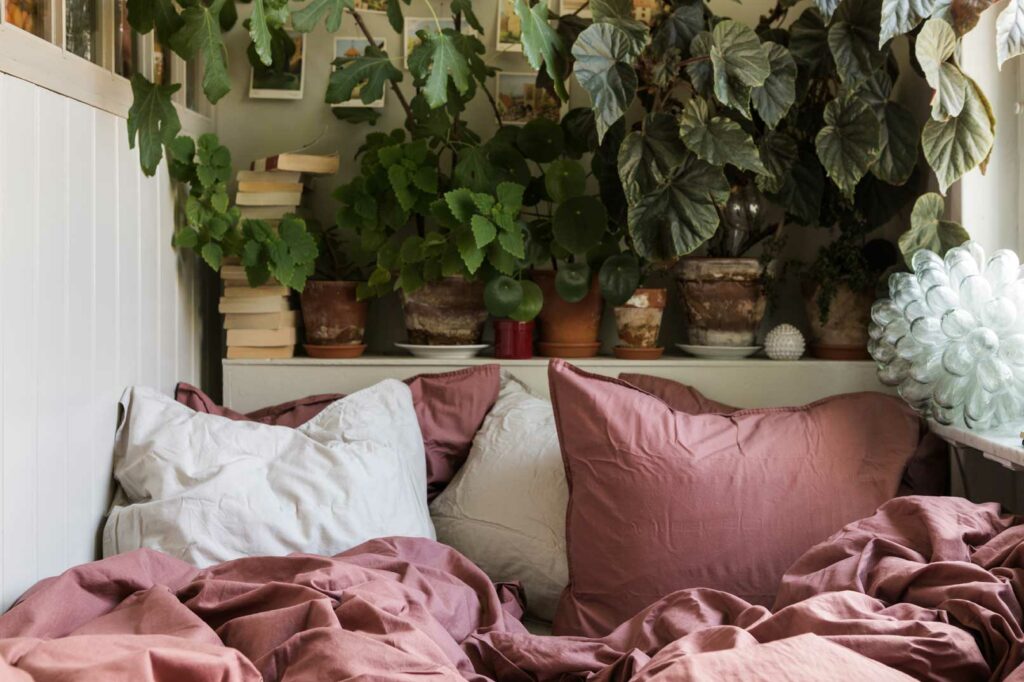 Text by Antonia af Petersens
Photo by Mikael Lundblad
Shop the look