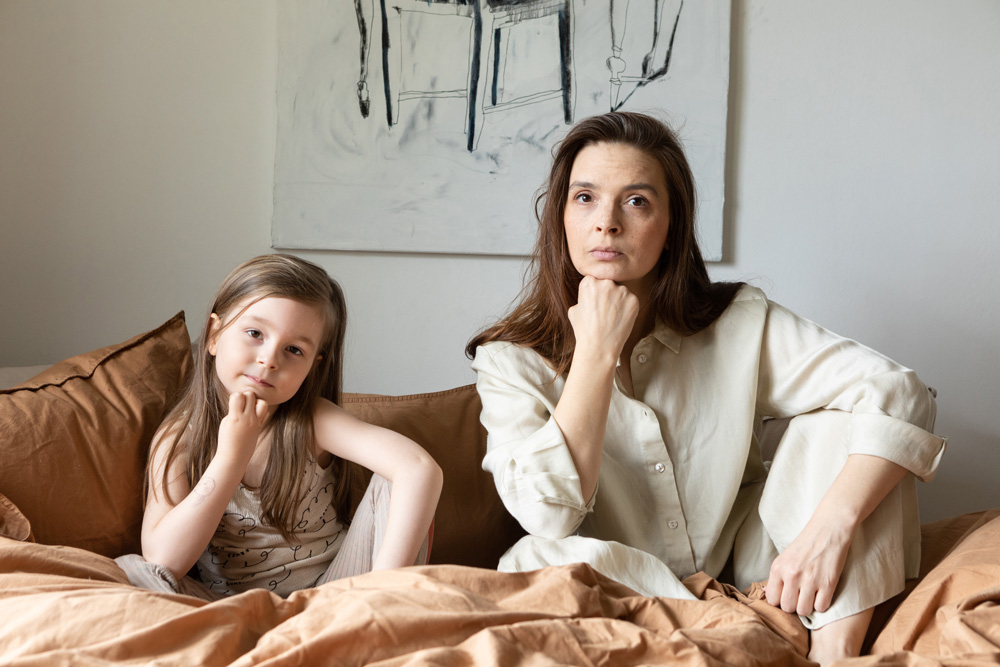 Former Midnatt co-worker Marina Peterson is a real treasure hunter. With a tremendous talent to find the perfect objects she turned her small nook south of Stockholm into a gracious space. We wanted to get a sense of her and her daughter Mae's way of living in their warm, intimate, and easeful home. If you want to copy Marina's bargain-hunt-strategy to snatch the right flea market finds, we recommend you to not just look at the pretty pictures!
Tuesday evening ends:
I put my six-year-old daughter Mae to bed at 8pm, and we both usually fall asleep a while later. But we read every night, and sometimes that tends to be more exciting than relaxing… Lately, we've been enjoying the mysteries of The JerryMaya detective agency, and we can't put the book down.
Before turning off the lights:
We always do a little summary when we tell each other the funniest and the most annoying thing that happened during the day. It's okay to say whatever you like. Her most boring experience can be my best, and vice versa. That gives you perspective.
I sleep in:
Something soft and long-sleeved.
I share the bed with:
Me and my daughter share a 180 cm bed where I sleep at, I would guess, 70 cm and she occupies the rest, haha. We're each other's opposites, I lie kind of "still" while she moves around, I'm chilly in the night, and she's like a radiator. Since she was a newborn, she's kicking off every tiny blanket, and I like to stay under a warm fluffy duvet.
On my nightstand:
It's a super tiny table that only seats the essentials. My phone, hand moisturizer, lypsyl, and a bowl with headphones. If you had asked me ten years ago, I would also add twenty half-read books to my answer, but now I've accepted the fact that I don't have the time to read like I used to. I love literature and culture, but nowadays every book, theatre, film, orbits around children's culture instead.
My best tip for a good night's sleep:
I think a good day gives a good night's sleep. Other than that, I would say routines.
Keeps me awake:
Mae – she likes to talk a lot when it's bedtime. Or my phone.
My version of counting sheep:
Instead of letting my thoughts keep me awake, I distract myself with some scrolling until I get really tired. My favorite hunt is to search for specific second-hand items at online commerce market places like Blocket or Tradera. It can be everything from design pieces to furniture. The whole thing is a sport to me. Finally, after six years, I started posting pictures on my own Instagram this summer, and the thing I enjoy most about it is the "editing"- part. Nothing advanced, mostly just a filter and tinting up the pictures (since I often take them in a hurry). I feel this little "fixing" very relaxing. Much more fun than actually taking the picture.
My best midnight snack:
Mae and I love our snack time before bed. She likes Finn crisp with cheese spread, sliced cucumber, and cocktail tomatoes. Or yogurt and müsli. I prefer dark chocolate with sea salt.
I last dreamt about:
I usually dream very long, detailed dreams. The last one I remember was about a wedding. I've actually dreamt a lot about weddings lately. I specifically notice decorations and remember bizarre speeches. I'm not sure what that says about my subconsciousness.
My evening beauty routine:
I don't really have a beauty routine. I would like to be a person that does all the "steps" and knows everything about moisturizers, serum, and masks, but I don't prioritize that at all. I usually buy products from some vegan brands when visiting Greece, and then I use them until they're empty. I like Korres, a Greek apothecary brand specializing in natural products.
Favorite bedroom feature:
Our double duvet cover – it has changed my life. And my Midnatt bed linen. The bed always feel and look crispy and fresh!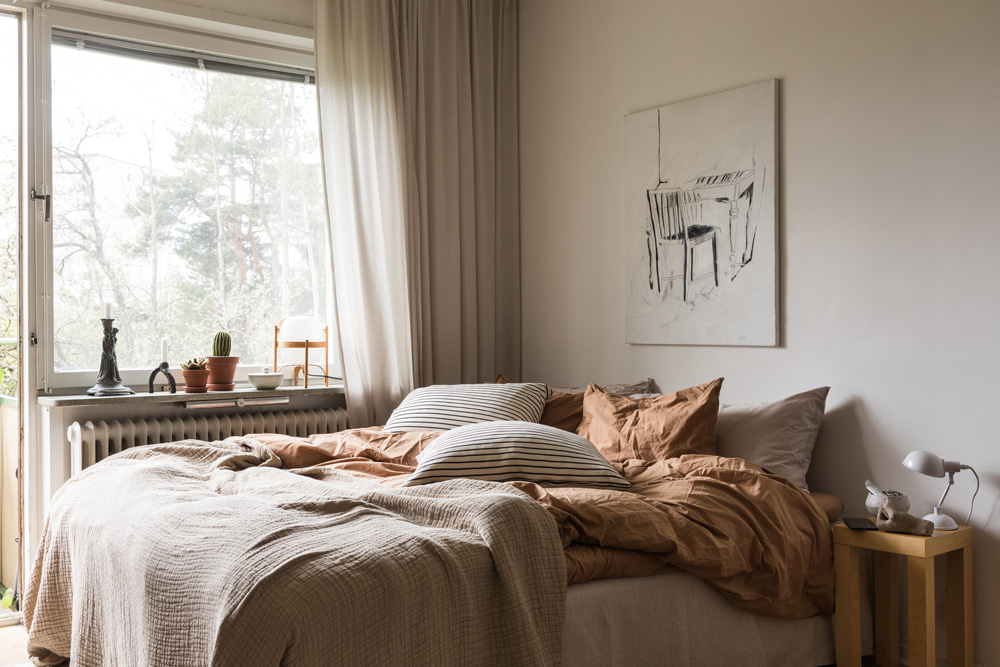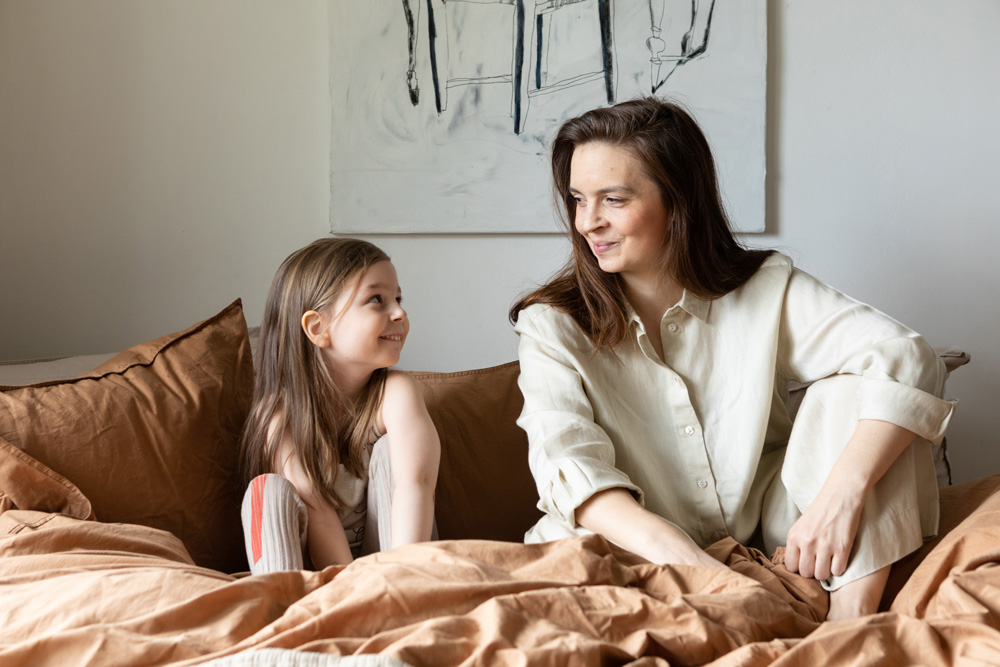 Wednesday morning starts:
At 8am. On Wednesdays Mae has lie in which means she starts school at 9.15 instead of 8.10. Most of the times we just enjoy one hour of extra sleep before a quick breakfast and heading to school by bike. Some extra special mornings we have gotten up a little bit earlier so we have time to go to a local bakery, Spiga Madre, that is right next to Maes school. They have the best vegan cinnamon buns in Stockholm! I also love their bread, focaccia and coffee!
The first thing I see:
My daughter.
My alarm sounds like:
The alarm signal on my mobile but now I also use an old school alarm clock that rings with a really high bell. I put the latter somewhere far away from the bed so that I have to get up to shut it down, cause I often tend to snooze a little bit too much if only using my iPhone…
My morning mood:
It depends on whether we are in a hurry or not. Mornings when both are rested, we are in the top mood. We both like to have time to cuddle and start slowly.
Everyday breakfast:
Soygurt, cereals from Reneé Voltaire, fruit. Nuts and seeds.
Birthday breakfast:
Crispbread, toast, freshly squeezed juice, strawberry cake, fruit.
A dreamy weekend morning:
We get off early to go visit a flea market. We bring coffee and buns. Since I was in my twenties, I've stayed home on Fridays nights to be able to get up really early and go treasure hunting on Saturdays.
My other version of a dreamy weekend morning takes place on the Greek island Sifnos, which has been my happy place (in double sense) since I was 21. I can close my eyes and see the beach, the cliff by the sea, and how we share some fruit and just become one with nature
Morning beauty routine:
My morning beauty routine is all about to cover up, haha. Right now, I'm using products from M.A.C.
My do's and don'ts when making the bed:
I do always use Midnatt bed linen and a simple throw on top. I can't no longer visualize how it was before Midnatt made its entrance in my bed linen-life. I love that all colours harmonize together and also with the rest in the room. Dromedary was my first big love but now also Pebble has grown on me. Mae loves Wilted and Rubra.
Also, we just have to ask… what's your golden rule of finding treasures at flea markets and second hand-sites? Any tips?
I have many tips! But first of all, it takes time. I would have been able to read several books or watch many tv-series, but I have this as a hobby (addiction) instead.
When it comes to online market places, I always use broad keywords. You find the real troves when the seller doesn't know what they're really selling. An old, shabby chair might not seem valuable for the seller but be the Thonet of your dreams. So, try to think outside your own box and find synonyms for what you're looking for. Then use the keyword coverage function so that you don't miss anything that might be of interest.
When it comes to garage sales and flea markets, the strategy is a bit different:
• First of all: Time is money. Be there early.
• Walk around one first, quick time to get an overview and a sense of where you should start.
• Be kind, and ask questions. "Do you think you have something similar at home? I love these but was actually looking for smaller ones", sometimes the best things aren't for sale. Yet.
• Be ready to look for a needle in a haystack. The real treasures you find among the junk. This strategy gave me the chance to buy a Festivo candlestick designed by Timo Sarpanevas for Iittala for 30 SEK (!) some time ago.
• Bargaining is part of the thing and a bit of a balancing act. You need to be empathetic but hard-nosed at the same time.
• And last but not least: know what you want and look for. It can be smart to have a visual idea of what you want before you even begin.
Text by Antonia af Petersens
Photo by Mikael Lundblad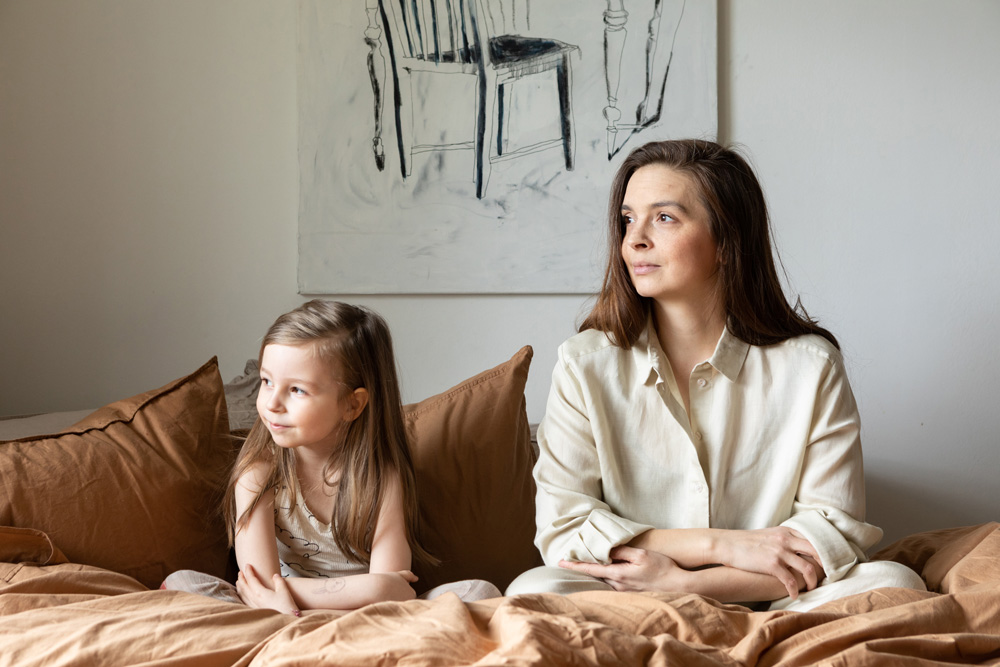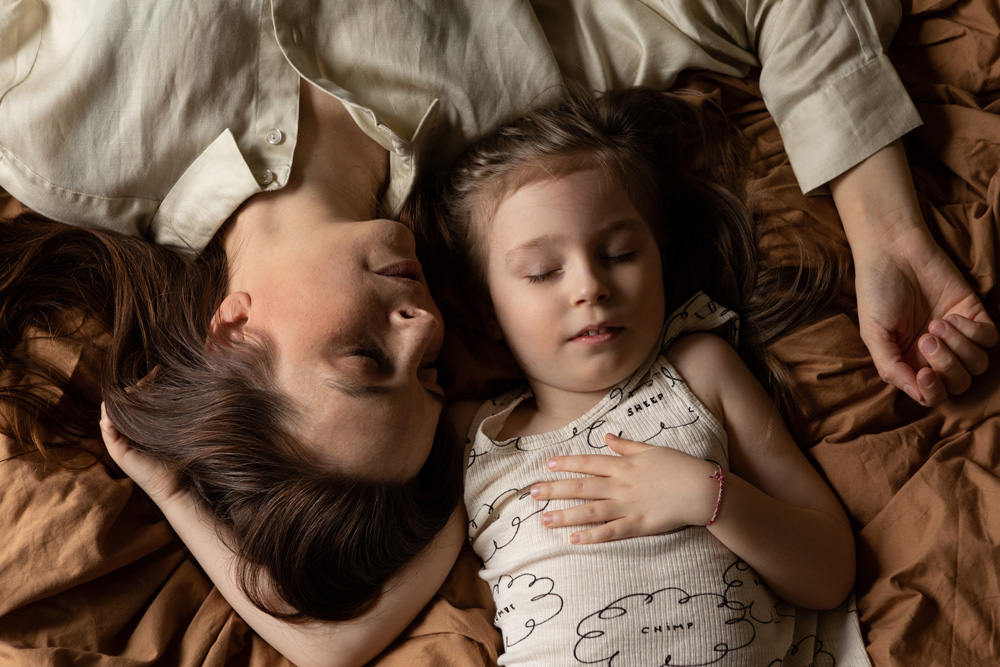 Shop the look