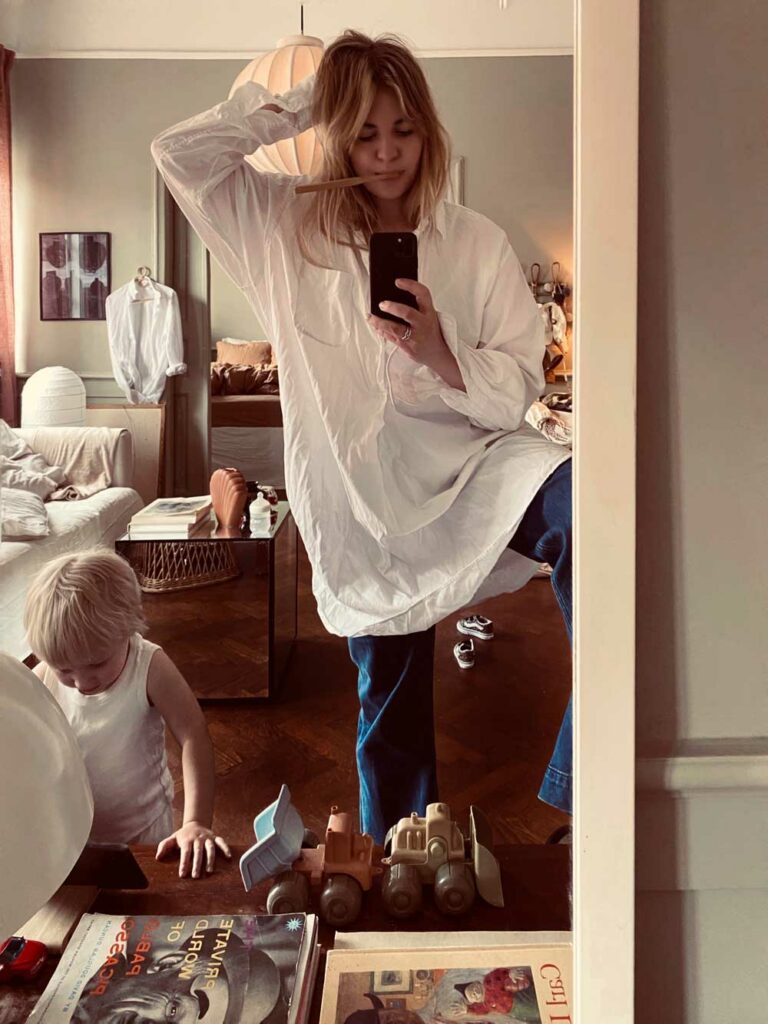 Peculiar circumstances call for peculiar measures. In the name of social distancing, we excluded our original photo team from our home visits and equipped ourselves with charged phones and selfie sticks instead.
This time we are sneaking around behind the curtains of Midnatt's co-founder Josephine Blix, learning how to nest from a tiny master of coziness and letting a herd of spirit animals lead the way through repeatedly spilt coffee in a small space romanticized to be bigger.
Who needs a living room anyway
Ever since I flew out my parents' house (yes that would be many years ago thank you very much) I lived in small spaces. So. Let's say my romanticizing skills on that matter are pretty good. The fact that we are outgrowing our apartment by the second doesn't seem to change that. I mean it will obviously. But right now I'm actually thinking about letting the living room, view above, and the bedroom, from where the picture is taken, swapping places. Turning the living room area into a big bedroom with fireplace and all, lounging around all day with fluffy duvets and pillows everywhere. And our present bedroom, that we share with our 1,5 year old would be only his. His very first room (!).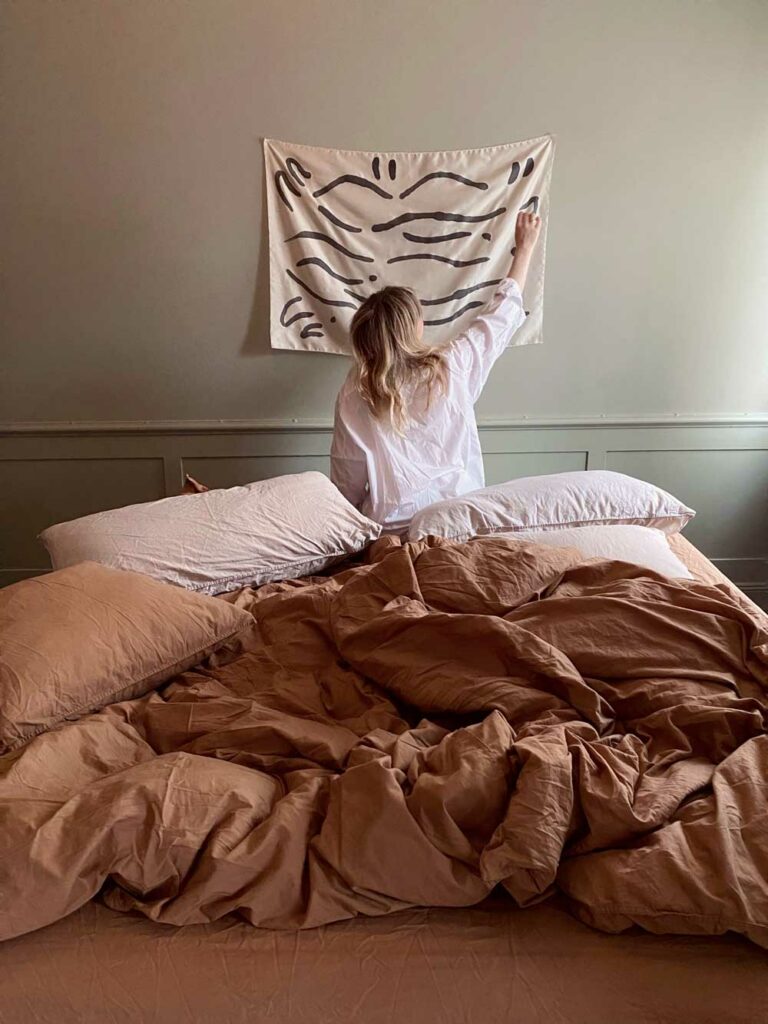 Will it catch our dreams?
I've been looking for something to hang over our sleepy heads for a long time. When I found Kassandra Widmark Uta's art while scrolling the feed of branchy friend and brilliant person Linnéa Salmén I ordered my own ink on satin artwork at once. Just nailed it on the wall yesterday and I already feel that its flowy self is a contemporary version of a dreamcatcher.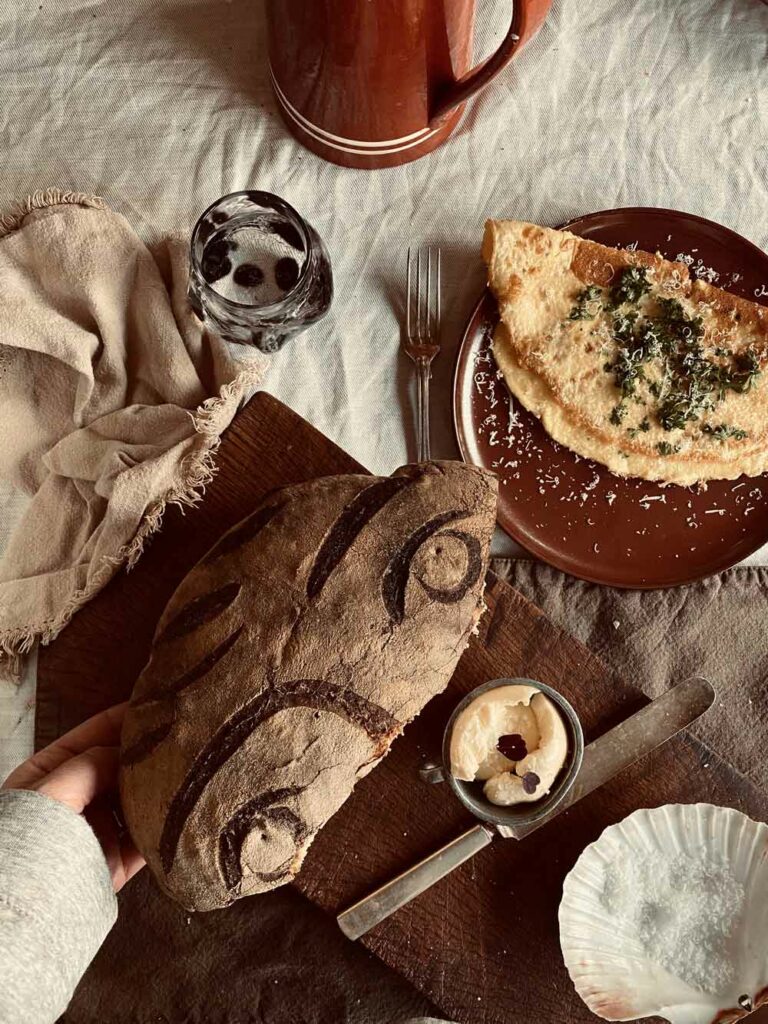 Obsessing from a distance
I wish I could say that all this extra time on my hands made me start baking my own sourdough bread. But that would be very far away from the truth. But. I am obsessing from a distance. Captivated following every move of this knowledgeable community. I mean look at Mr. bread!! Made by baking artist queen Linda Ring. So happy I got the best part of his face with me after Midnatt's visit to her place, a story not to be missed btw.
Be aware
I can actually not believe that it took us 4 years and a pandemic to get some curtains up in here. I mean, we live first floor with windows facing the square. Well done P! And be aware people of the piazza I will for sure spy on you behind them. Ps. The fact that I placed a hot cup of coffee one step down from him on the stairway because I thought it would look cute in this picture and what clearly happened one sec later is something we can talk about some other time.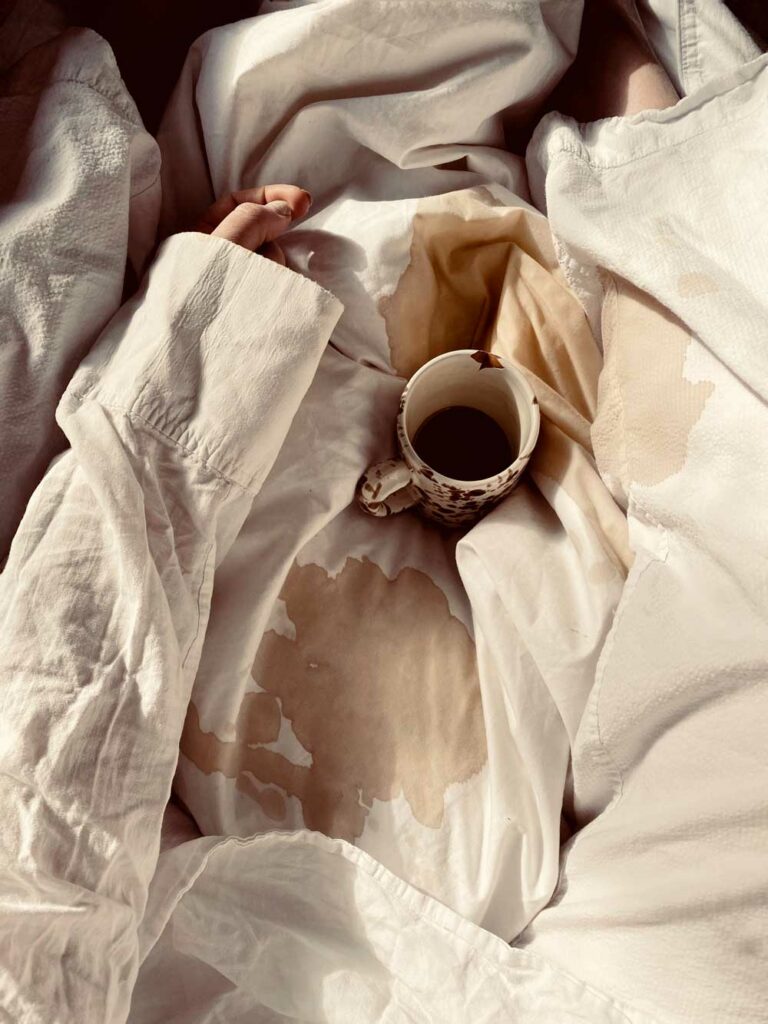 Story of my life
… Yes. I stumble, I fall, I spill. A lot. But does it keep me from having my coffee in bed next to baby A's iconic frog ballet – characterized by its very large and highly unpredictable moves? No.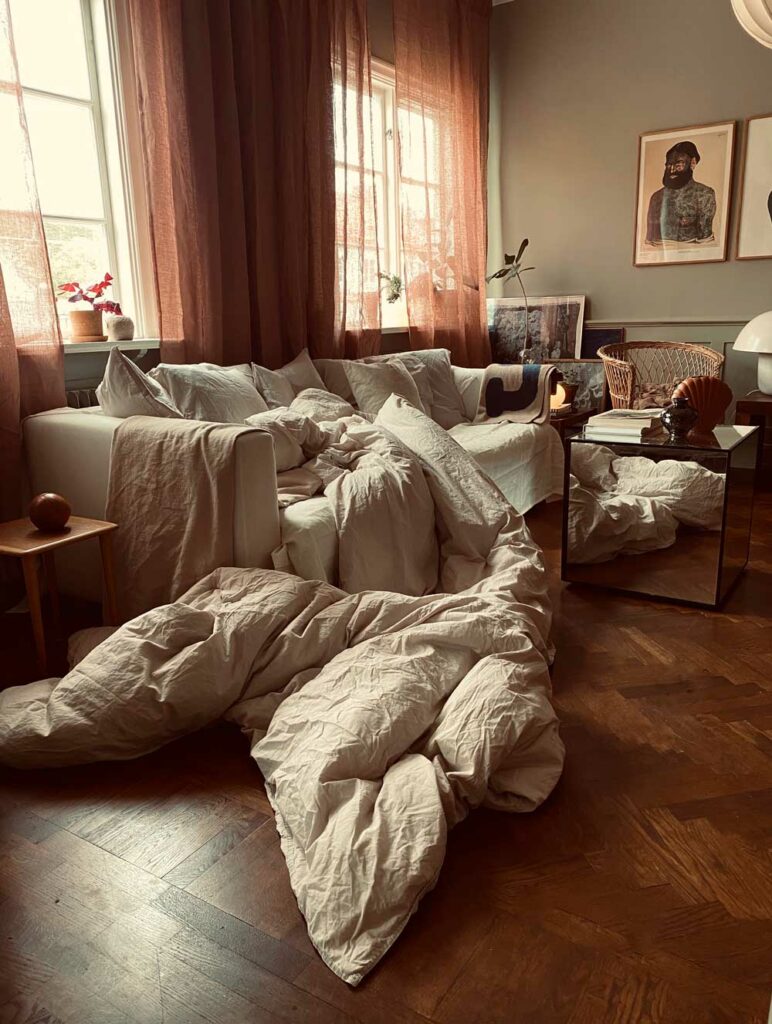 A substitute
If I were to choose, the whole apartment would probably be a giant bed. Or a duvet fort. As an accurate-ish adult, I do know that it's impossible. My substitute is fluffy duvets and pillows in places they should not be. There's always someone or something resting or nesting on a cotton cloud somewhere in this house. I guess I did choose the right industry after all.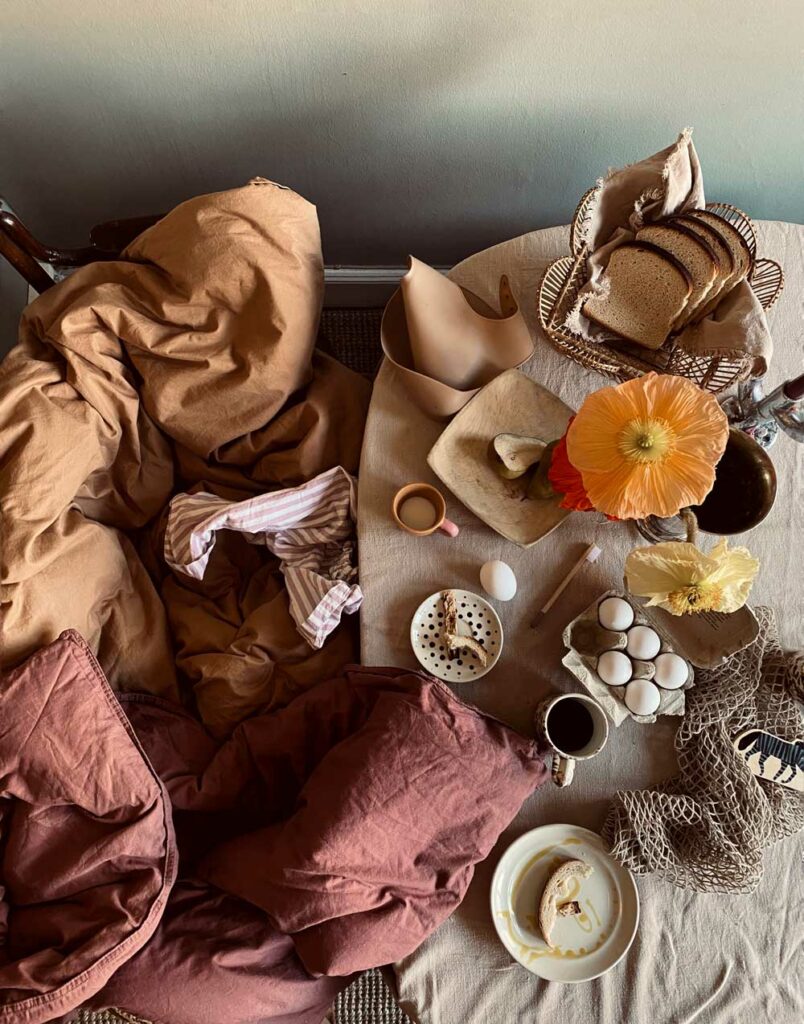 Master of coziness
Comes around goes around. Looks like we created a tiny master of coziness. My son is of course also carrying around his own duvets around the house. No proper meal in the kitchen sofa without them, right?
Hippie bus
He has this thing with picking leaves and petals from all the plants and flowers around the house. My son, that is. Not my husband. With great gentleness and a huge dose of patience he then places them in the seats of his car toys, each little flowery piece through those microscopic doors at a time. Quite amazing when you think of it. I also want to go on a road trip with a bunch of entertaining flowers. Editor's note. Sometimes also mashed potatoes and macaroni with butter find their way through those little car doors. Probably would be an even more memorable ride with those guys.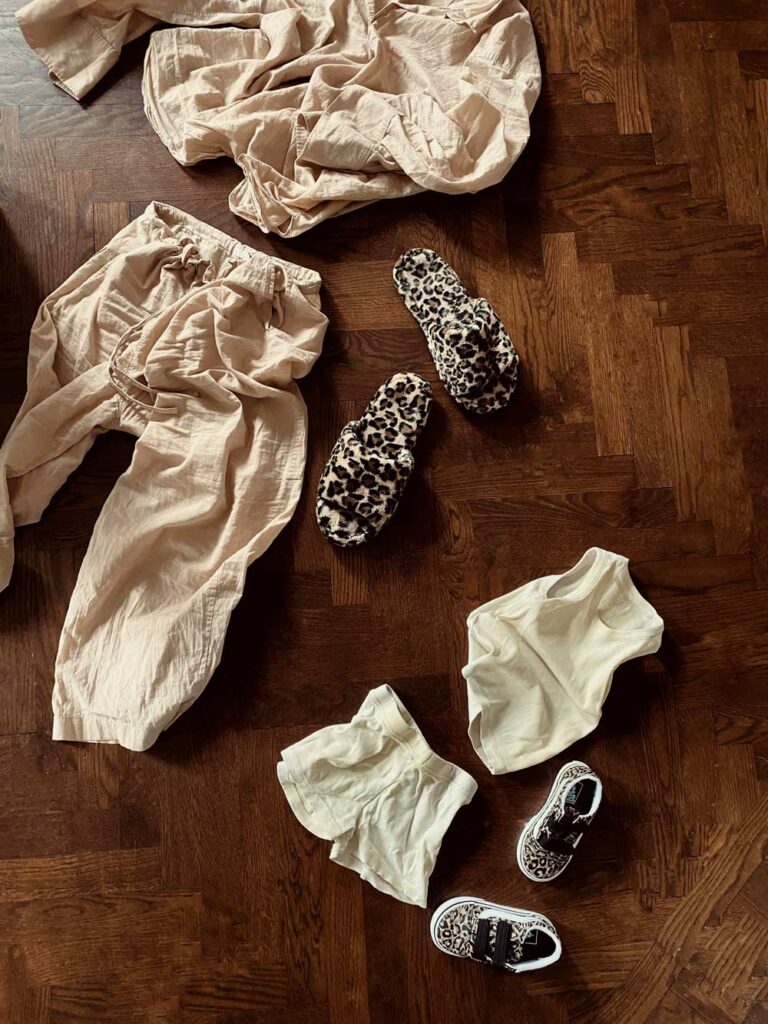 Paw by paw
Favorite stay at home outfits, there you have them. Like our shells. As cheesy as it is, we do like to match our paws. Correction: I do like to match his paws. I also do fear that our matching days are counted. In the meantime, nothing can keep me from walking paw by paw with him.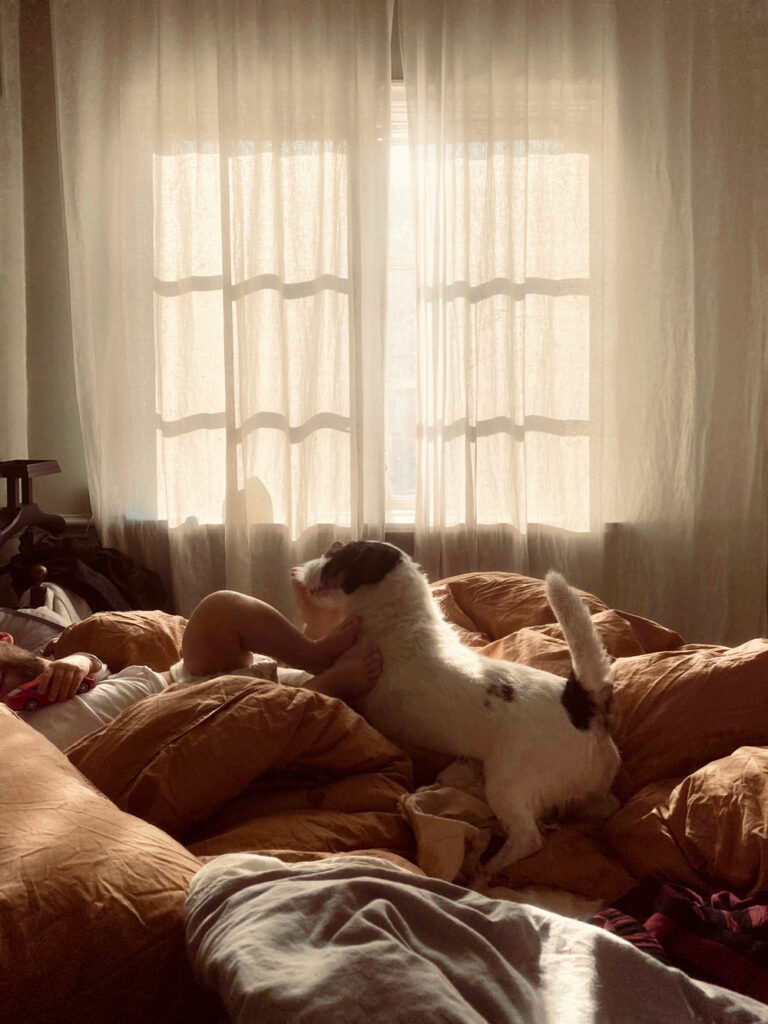 Bosco
Speaking of paws. Most important sets of paws in our lives belongs to our Jack Russell Terrier Bosco. Each step of the way. Heads up! We will soon release a new Midnatt color named after him. Bosco also means forest in Italian. Now you know.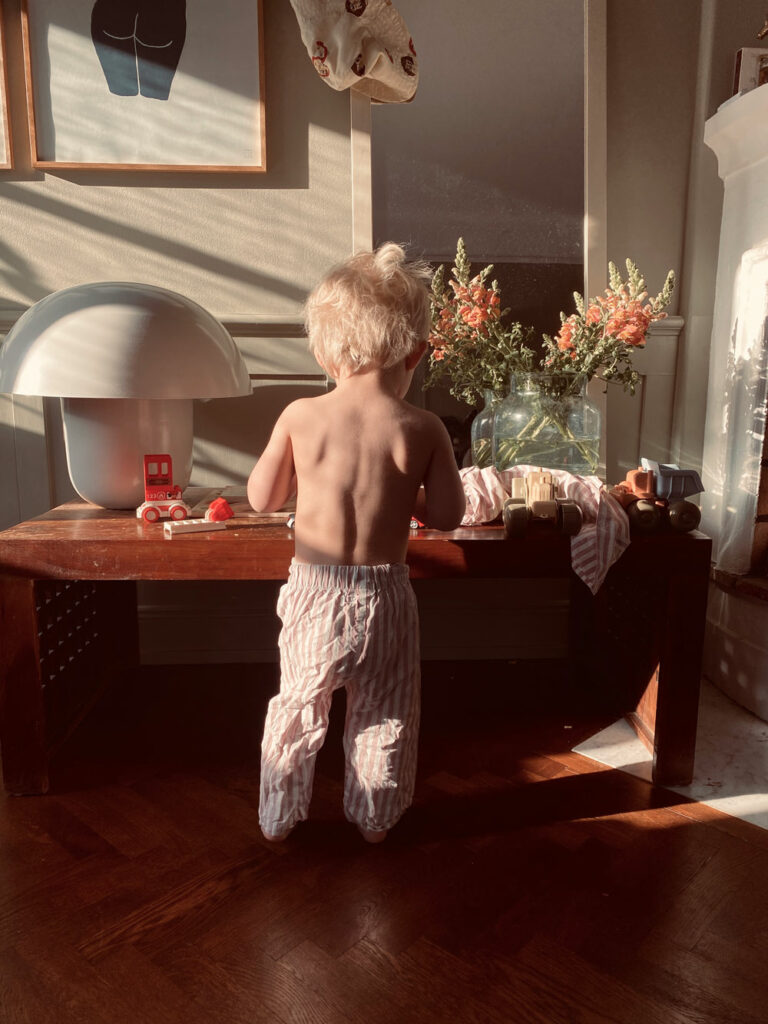 Pyjama magique
There he is. Taking them flowers on a ride in one of his trucks. He has a. lot. of. trucks. I bought this striped PJ suit from an Instagram friend that I never met irl. Now I want him to wear it all the time. And I actually make him do that. Omg. I really am creating a tiny master of coziness?! Hopefully he will look back one day and think, man did I grew up in a snuggly comfy nest or what? Haha. I feel like it's my responsibility to pass on this pyjama magique to another little human when this cute but has grown out of it.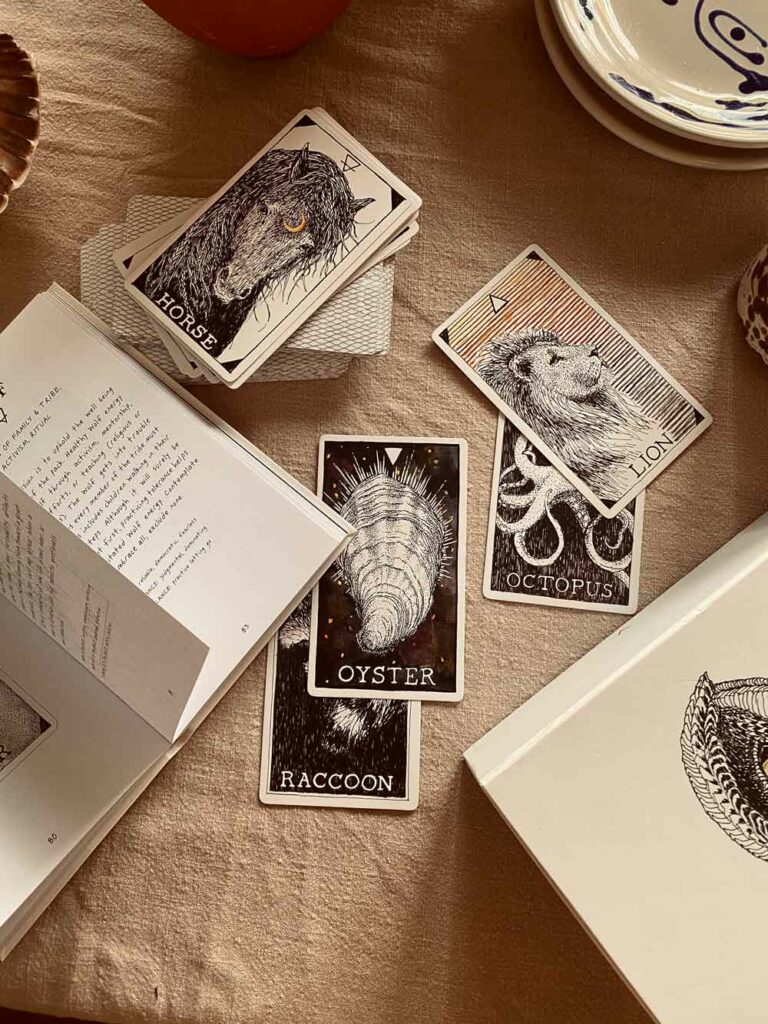 Spirit animals
If you can't go outside go inside, they say. A dear friend gave me this desk along with The Wild unknown animal spirit guide book for my birthday. Now I don't even know how I managed things without it. Here the spirit of the oyster tells me to share something to feel lighter. So I just did. With you. In times like this, I guess it feels kind of nice to have something to hold on to. I'm holding on to this herd of brave animals.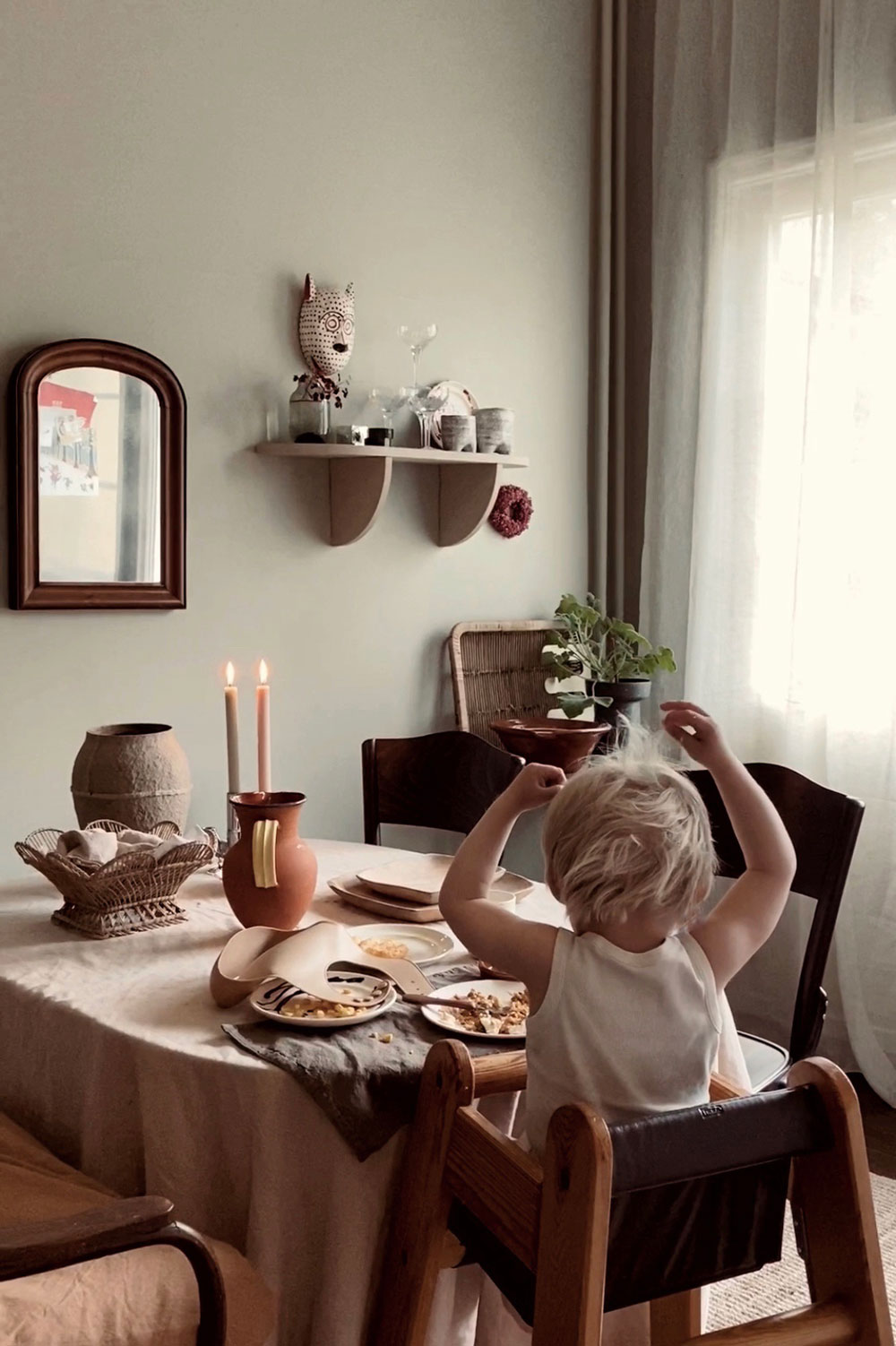 I said yes
My whole life I lived without shelves. No, it is true. Maybe one day someone will tell me why I had this behaviour of stacking things on the floor, against the walls. Anyways when Betonggruvan's shelf sneaked up to me and asked if she could follow me home and stay forever I said YES! Extra plus: it's painted by Josefine Halfwordson herself in the most perfect egg tempera beige.
Words and images by Josephine Blix
Shop the look