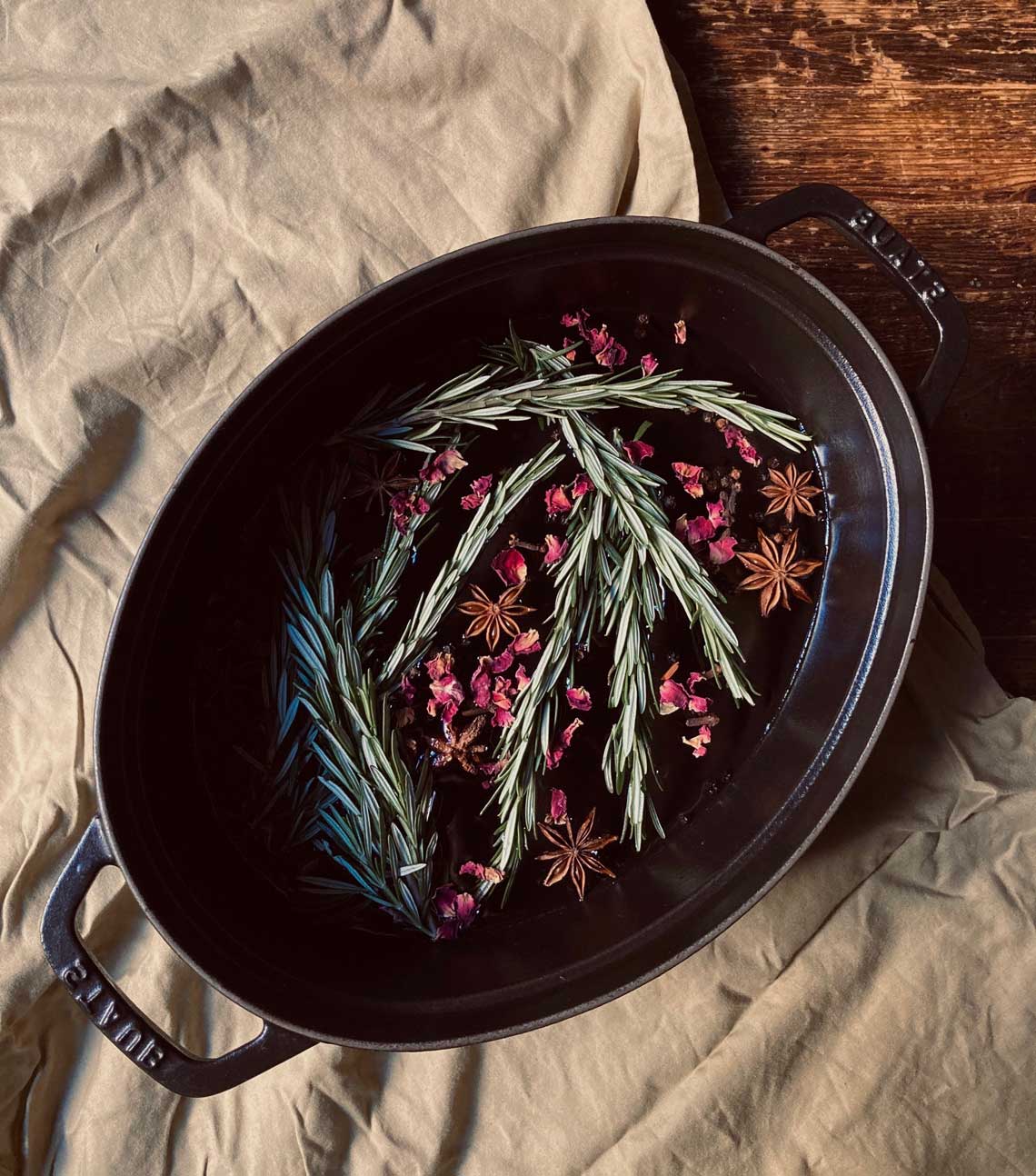 The indoor season has begun! The fragrance is often the finishing touch that creates a homey, warm atmosphere in any space. This season we blow out the scented candles for a while, turn on the stove and fill our homes with all-natural aromatic smells from simmer pots instead.
The procedure is simple. You basically fill a pot with water and add fruit peels, fragrant spices, herbs, dried flowers, or essential oils. Let it gently simmer for hours and waft a pleasant smell throughout your entire home. There really aren't any rules here – use what you already have at home or mix what you like. The quantities aren't crucial, but a helpful indication is that taste in dried herbs' becomes more concentrated than fresh ones. If you're using essential oils, the aroma is even more intense, so start with a few drops and add more if needed. Below are three different pots that will spark your senses.
Simmer pot with Star anise, Black pepper, Rosemary & Rose petals
The mix above is the absolute winter blend for every nose who likes the Mediterranean flair of rosemary. It creates a herby, pungent, and quite a heavy scent, matching with the spicy, licorice-like star anise and black pepper. To balance the spiciness, add some drops of rose oil and some petals if you have.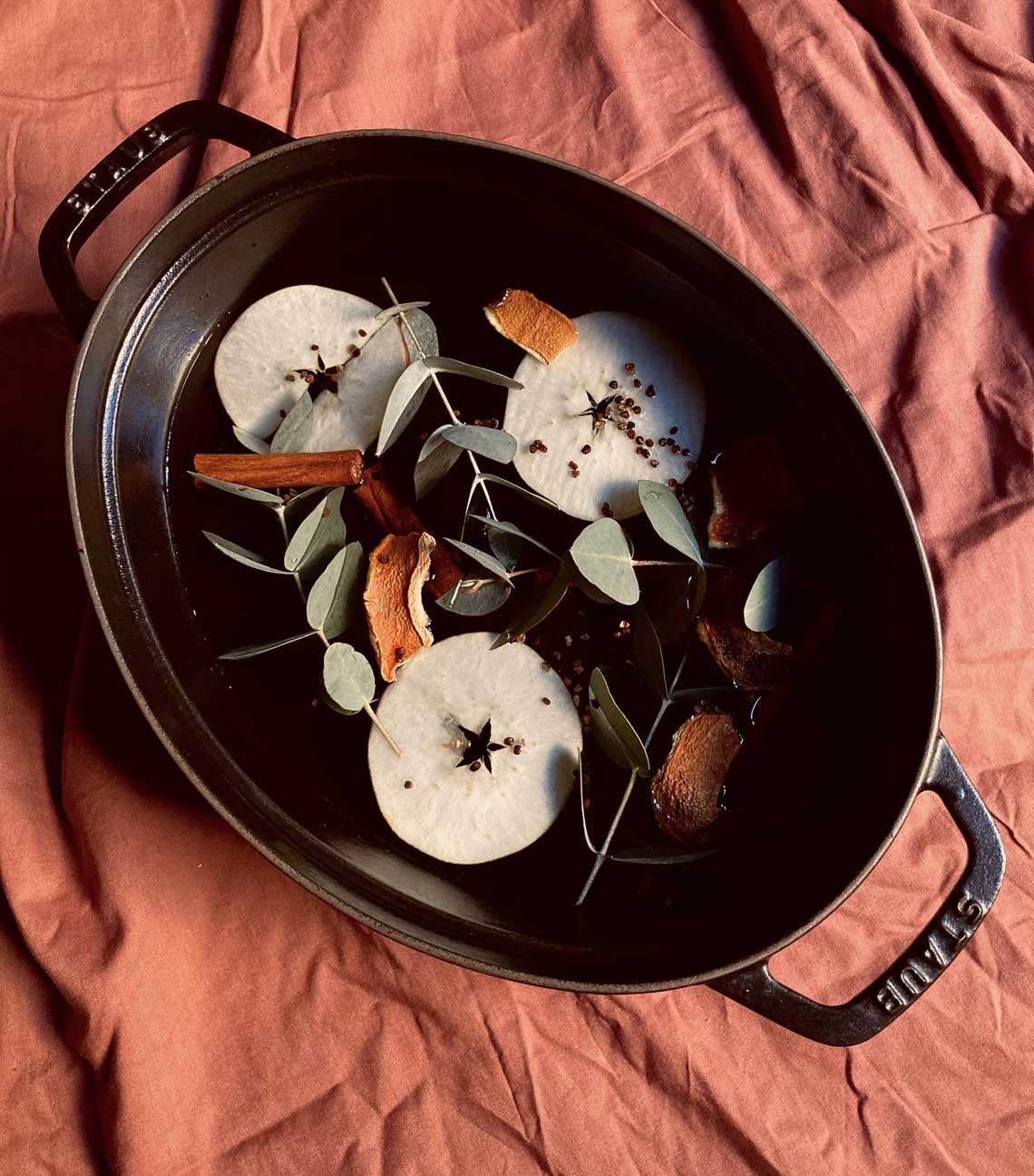 Simmer pot Apple, Bitter orange, Eucalyptus, Cardamom seeds, Cinnamon & Orange flower water
This pot is the most synonymous with fall and Christmas. Fresh citrus and eucalyptus, sweet apple, warm, earthy, cardamom, and comforting cinnamon. This enticing mix is both spicy and sweet, and you can intensify the floral freshness by adding a tablespoon of orange flower water.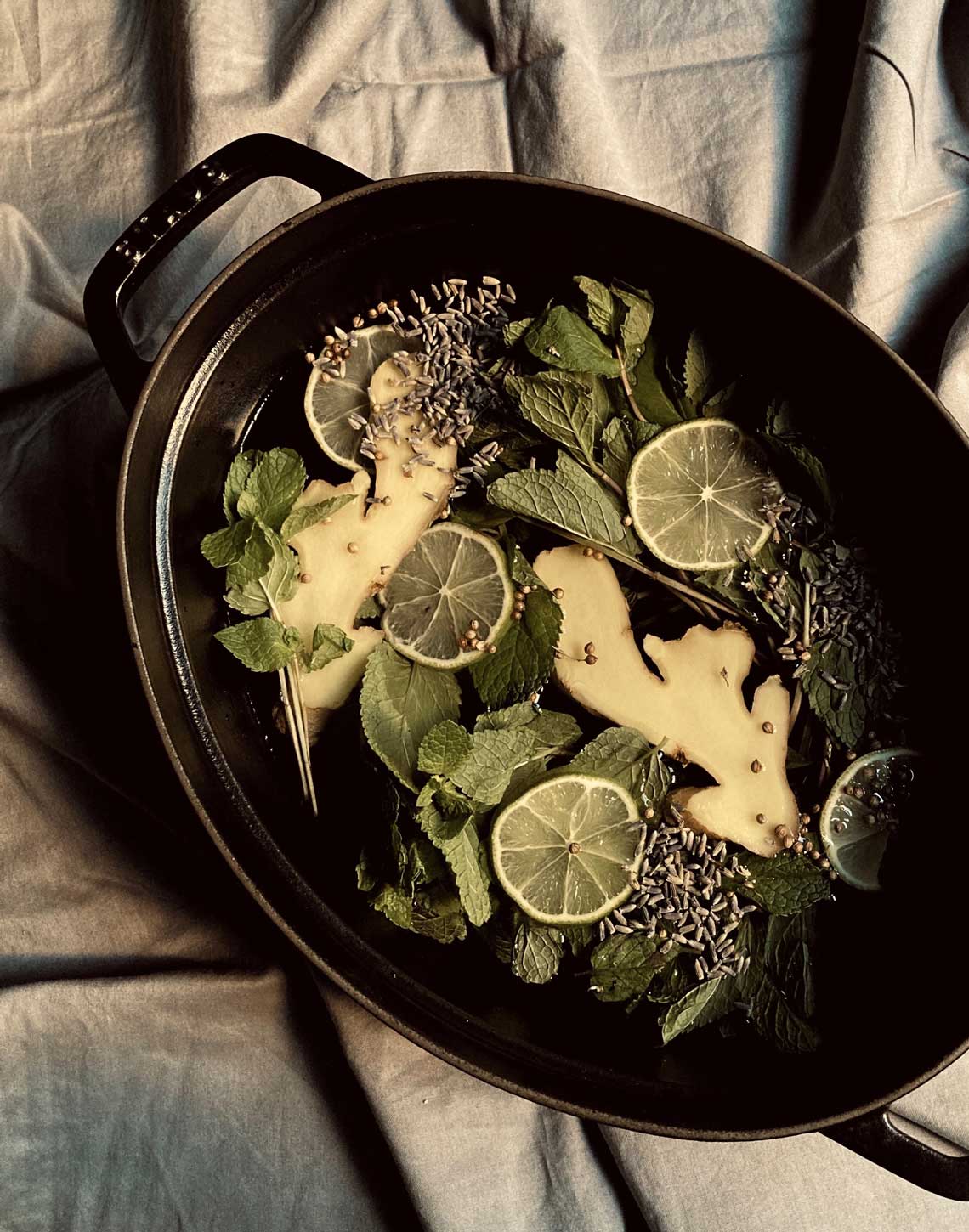 Simmer pot with Ginger, Mint, Lime, Dried lavender & Coriander seeds
The winter is long, and when the holiday season has passed, one couldn't be more ready for a new start. This blend consists of refreshing mint leaves, lime, and uplifting ginger. Sooting lavender gets the task to balance the freshness. If you like to accompany the floral aromas and add some tingy spice, throw in a tablespoon of coriander seeds.
Styling and images by Antonia af Petersens
Shop the look